Introduction to Power Query
Power Query Editor is a data transformation and cleaning tool that is part of Microsoft Power BI and Excel. It allows users to connect, transform, and shape data from various sources such as Excel spreadsheets, CSV files, databases, and the web, making it easier to prepare data for analysis and visualization.
Power Query is a data transforming engine which you can use to get data from multiple sources, clean and transform that data and then use it further in the analysis.
Rename a column in Power Query
You can simply rename a column by right click and then click on the "Rename".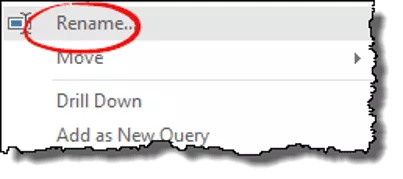 Quick Tip: Let say you have a query for renaming a column and someone else rename it by mistake. You can restore that name just with a click.
Other Examples of Power Query tool in MS Excel 
Below is the list of examples of using Power Query tool in MS Excel, you can learn and master each examples –