Never forget a birthday with this calendar template. Enter birthdays in the upper section and the calendar automatically highlights the dates. Download this birthday calendar template and organize the upcoming birthdays.
This Birthday calendar template is available for free. Using excel and spreadsheets you can track birthdays of your family members, friends and office mates.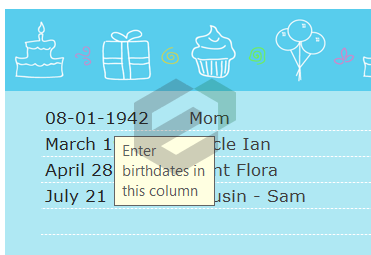 You can update the birth date of your family members, peers, relatives and friends as per the date format and notepad section shown above.
All the birthdates will be auto highlighted in the calendar (12 months) in the lower section of the template.
Furthermore, the color scheme of this template is pale light blue. However, the color scheme is customizable as per the requirement.
You can also add new features and formulas in this template from your end. This is a basic birthday calendar template useful for business and personal purpose. It has many usability and it is a scalable excel calendar template.
Other Calendar Excel Templates
Other calendar templates you might want to try for your personal and business use are as under :
Download and use Excel birthday list template
To use this free excel birthday list template, you should have Microsoft Office/ Microsoft Excel installed in your system.
After installing Excel or Spreadsheet, download the zip file of this template, extract the template using WinRAR or 7Zip decompressing software. Once extracted, you can open the file using Excel and start entering data or customizing the template.