Download free excel template for creating content update calendar for Pinterest. This template is useful for industry experts, CEO, General Managers, Employees, branding managers, corporate communication consultant and content writers.
An effective Pinterest Marketing and posting strategy can generate good leads toward Business to Customer (B2C) and Business to Business (B2B). It is also a good source of traffic for social media and websites.
About Pinterest content calendar excel template
This template comes with basic two worksheets, namely, Weekly Post Planner and Summary Statement.
In the weekly post planner worksheet, there are 52 weekly slots each starts on Monday and ends on Sunday. All you need to do it to insert the date in the light blue colored cell. As you enter the date, the template fetches the remaining dates for the preceding year. Using TEXT Function the row below the date will display the weekday.
Be careful, the start date you wish to enter should be starting on Monday. It displays all weeks in a similar format; starting on Monday and ending on Sunday.
Weekly summary of Pins statement is updated automatically, based on the information provided in the post planner sheet. You can copy and paste the chart in your presentations for reporting and review purposes. It looks something like this –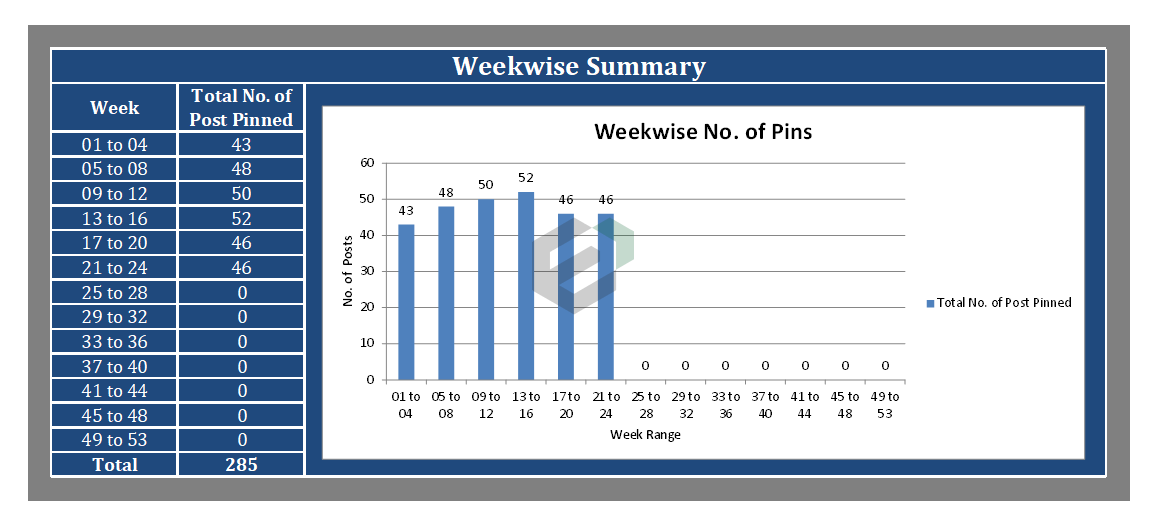 Importance of Pinterest Content Strategy
A Pinterest content and Pins strategy is important because it helps you define your goals and target audience on the platform, and guides the creation and distribution of your content. It also helps you measure the effectiveness of your content and make adjustments as needed.
Here are some benefits of having a Pinterest content strategy:
Increase brand visibility: A well-crafted content strategy can help increase your brand visibility on Pinterest and attract new followers.
Establish thought leadership: Sharing valuable and informative content on Pinterest via Pins can help establish you or your company as a thought leader in your industry.
Generate leads: A strong Pinterest presence can help generate leads for your business by providing valuable content that encourages users to engage with your brand and learn more about your products or services.
Build relationships: Sharing content on Pinterest can help you build relationships with your followers, industry leaders, and potential clients.
Improve search rankings: Pinterest's algorithm ranks content based on the engagement it receives, so a well-crafted content strategy can help improve the visibility of your content in search results.
In summary, a Pinterest content strategy can help increase your brand visibility, establish thought leadership, generate leads, build relationships, and improve search rankings on the platform.
Download and use

Pinterest

Content and Pins Calendar free template
To use this free excel template, you should have Microsoft Office/ Microsoft Excel installed in your system. After installing Excel or Spreadsheet, download the zip file of this template.
Now, extract the template using WinZip, WinRAR or 7Zip decompressing software. Once extracted, you can open the file using Excel and start entering data or customizing the template.