SAP Human Capital Management (HCM) is also called SAP-HR. SAP HCM consists of important sub-modules like Personnel Administration (PA), Organizational Management (OM), Time, Payroll all of which will be discussed in detail.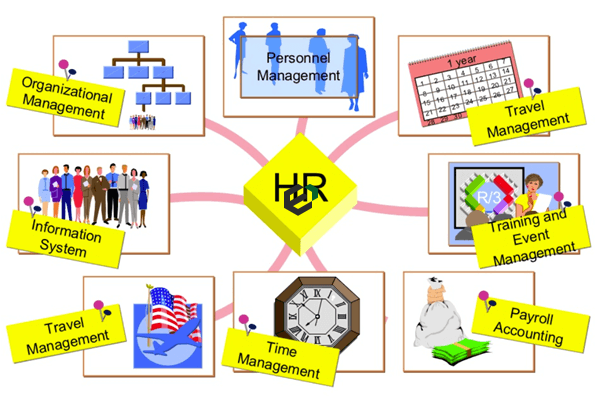 SAP HR modules
SAP HR consist of the following modules
Organizational Management
Personnel Administration
Time Management
Payroll Accounting
Travel Management
Organization management in HCM Module
Organization management is a very important sub-module of SAP HR. It enables the organization to represent the organizational plan and analysis of the current plan. It also allows you to create additional plans and create better workflow management.
Functions of Organization management Sub-Module
Creating graphical reports of organization structure
Managing Information on Departments/ Org Units
Tracking of Positions in various departments
Maintaining Jobs
Reporting relationships
Vacancy related reports
Personnel Administration in HCM Module
Personnel Administration is an important sub-module of SAP systems. It records essential employee's information. It helps you to perform various administrative tasks like hiring the employees, personnel information, travel expenses, payroll accounting, etc.
Important functions of Personnel Administration module are
Individual Infotype maintenance
Contract Elements
Monitoring of dates family/related person
Education
Other/previous Entity Relationship
Cost distribution
Internal medical service
Time Management (TM) in HCM Module
Time management is another important sub-module of HR and records employee data. It is mostly is related to attendance, time evaluation, shifts, etc.
Here are some important functions of Time Management Module
Holiday calendar
Personal work schedule
Monthly work schedule
Attendance and absence quotas
Attendance check
Graphical attendance/leave reporting
Activity allocation
Payroll in HCM Module of SAP ERP
SAP payroll module helps you to process the payment for the work done by employees. It includes wages, medical benefits, taxes, deductions, etc. SAP payroll module is also integrated with other modules like personal administration, time management, financial accounting, and so on.
Here are some important functions of Payroll system
Gross payroll accounting with automatic wage calculation
Automatic special payments computation
Full gross/net retroactive accounting
Data exchange with social insurance agencies, banks, etc.
Training and Event Management in HCM Module (SAP)
Training and Event Management module deals with recognizing training needs, scheduling training process, cost management, etc.
Travel Management in HCM Module
This SAP module includes managing official trips, cost management for travel, travel expenses, etc.
Important functions of Travel management
Entry of trip data
Calculation of meal allowance
Maintain receipts claim
Advance payment
Representation of internal company rules
Trip-specific account assignment
Simulation of statement
Download SAP T Code List for HCM Module