Excel is a great medium to create an HR dashboard. It provides tools for analyzing data and visual representation. You can analyze data using various excel formulas and visualize them using various charts and infographics. You can also label everything and try to keep things simple.
Also, don't forget to update your data regularly. You can create monthly HR dashboards for keeping each department under control and a yearly HR dashboard for general perspectives, activity evaluation, and predictions.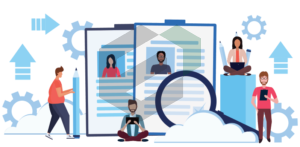 About Human Resources Metrics [HR Metrics] Dashboard in Excel
To make an effective and efficient Human Resources Key Performance Indicator (KPI) with major metrics, you will require a good plan. You can start by organizing and arranging the data you have. Data can be like employees records, payroll, benefits, performance scores, satisfaction scores, everything counts.
Then, take a minute to decide what you want to achieve. The end goal should be understood to reduce the irrelevant working. Each purpose should have dedicated data and statistics.
For example, you may want to evaluate Key Performance Indicators (KPI) – absenteeism. For this KPI, your data source and statistics will be leave balances, and payroll for each department.
Each and every data set and working have their own role in an HR dashboard. Furthermore, the HR dashboard allows you to follow the data and understand why you have these results.
Features of this HR metrics KPI Dashboard [Excel Format]
This excel file comes with working for various metrics and performance indicators for staffs and employees. In the dashboard sheet, you can find charts and infographics for various KPIs.
You can check the average age of staff, male to female or vice versa ratio, average salary in various department, absenteeism and bonus and benefits etc.
Each infographics and chart have underlying working. You can start plotting data for your company, employees, staff and client in these working sheets. Charts and infographics will be automatically updated.
Download and use HR Metrics KPI Excel Dashboard
To download and use this free HR metrics KPI dashboard excel template, follow the steps below –
Firstly, You should have Microsoft Office/ Microsoft Excel installed in your system.
After installing Excel or Spreadsheet, download the zip file of this template, extract the template using WinRAR or 7Zip decompressing software.
Once extracted, you can open the file using Excel and start entering data or customizing the template.
Furthermore, To download fonts and typefaces compatible with Microsoft Excel > Calligraphic.net.