Download the training attendance record excel template. This is a printable training attendance format. You can use this template for your training, seminar, campaign meeting and many more.
About Training attendance record excel format
The Training Attendance Template lets you track the attendance of employees in mandatory and/or voluntary training programs. First, define the program name, level, and reference, as well as the training location, date, time, and trainer name.
Add your attendees and their information (name, position, and department). Mark their attendance status as "Yes" for attendees, and "No" for non-attendees, for the specified training session date and time.
The number of people who have or haven't attended the training session on the specified date and time will be calculated automatically in a counter next to the main table.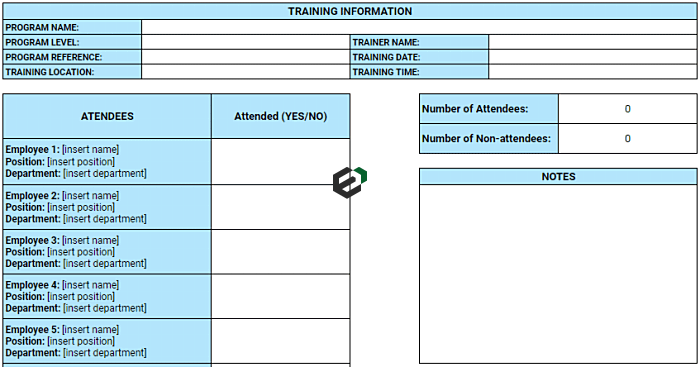 Download and use training attendance record excel format
To download and use this free printable training attendance records excel template, follow the instructions below –
Firstly, You should have Microsoft Office/ Microsoft Excel installed in your system.
After installing Excel or Spreadsheet, download the zip file of this template, extract the template using WinRAR or 7Zip decompressing software.
Once extracted, you can open the file using Excel and start entering data or customizing the format.