Download free excel template for finance dashboard. This dashboard is useful for finance managers, consultants, business leaders and consultants. This can help create CFO Dashboard, CXO dashboards as well.
CEOs, CFOs, CBOs, or say any of the CXO usually prefer dashboards because they give a clear cut visualization of the trend, comparison and trajectory. It helps in making decisions (strategic, financial and/or operational) in more logical manner. Hence, it is always good to have a detailed dashboard for your Senior Management, rather than Excel Tables and Spreadsheets. Learn more about CXO Dashboards at CSS Corp : Check out !
About Finance dashboard excel template
Once you download and extract this template, you will see that this template comes with three worksheets, namely,
Data
Calculation
Dashboard
In data worksheet, you will find two sections or areas, one pertains to creating a master of records wherein you will fill details which will not change very often. This information is true in all the cases. For example, Months, Targets for revenue, Year, Country, Company Size, Industry. You can also add more information as per your requirement but however, making use of that master information in other calculation and dashboard can be tricky.

Now, there is another part in the data worksheet, wherein you capture the actual information or the performance part. Usually in business all this information is prepared by clerks or the executives who prepare daybook, billing information etc.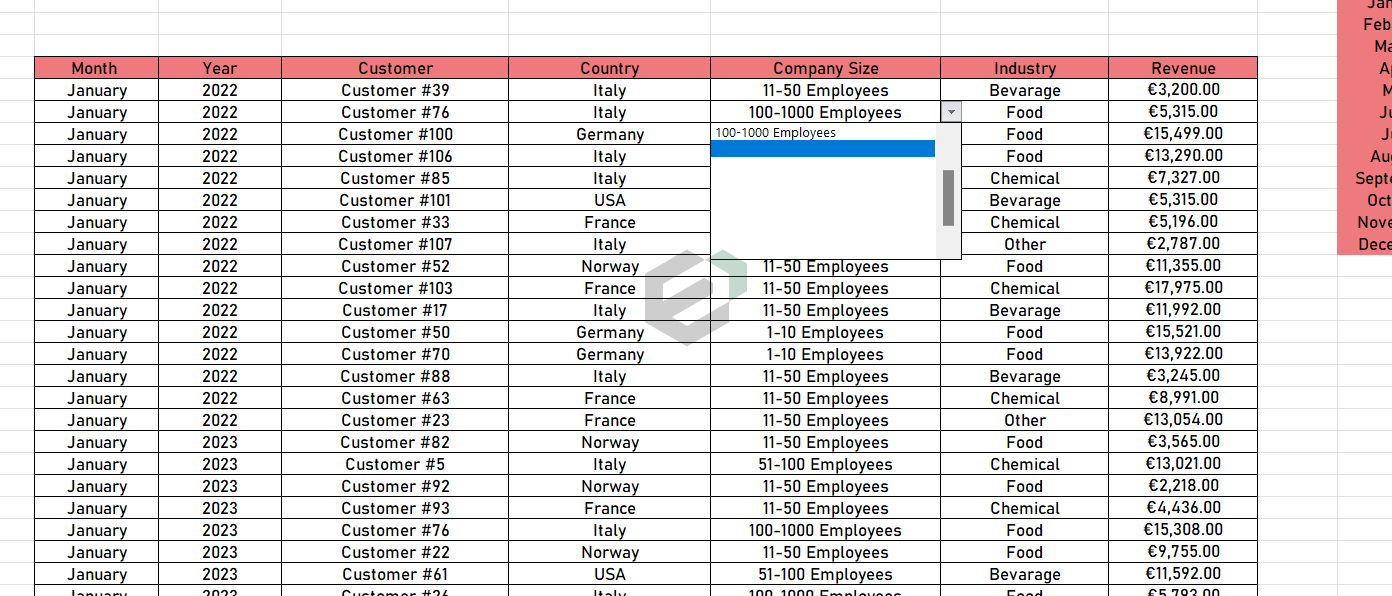 Note; there is data validation (list type) defined in this table so be careful while customizing the links and information. You can see the example above.
In the Calculation Worksheet, there is nothing much to do. Based on the information, data updated in the Data Worksheet, calculations and working happen in the Calculation worksheet.
Now, finally the dashboard area, as soon as you complete updating your information in the "Data Worksheet", you can come to the dashboard part and see your visualization and dashboard, unless you find anything concerning in the dashboard. You should start customizing only after you understand the dataflow pattern in this excel dashboard template. In the dashboard, you will find information like –
Customer Portfolio
Total Revenue Generated
Revenue per customer (metrics)
Target Achieved (percentage wise)
Revenue Current versus previous year
Country wise bifurcation (overview)
Customer wise bifurcation (overview)
So, there are information and metrics both involved in this dashboard, which is very helpful for senior management to understand the growth and trajectory of the business.
Download and Use Finance Dashboard Excel Template
To use this free excel dashboard template, you should have Microsoft Office/ Microsoft Excel installed in your system. After installing Excel or Spreadsheet, download the zip file of this template, extract the template using WinRAR or 7Zip or buy WINZIP decompressing software. Once extracted, you can open the file using Excel and start entering data or customizing the template.