This weekly lesson planner excel template helps you to optimize your classroom or lesson or tuition plans. This colorful lesson planning template allows you to schedule weekly activities for five subjects.
You can add more subjects as per your requirement. Keep on track with student learning goals by planning activities and preparing material for each subject every day. Add evaluations or reflections in the note section. Be a better educator with a template for lesson plans from Excel. This template is mainly useful for students, teachers and professors.
About Weekly lesson planner excel template
Lesson planning is important because it helps teachers ensure that the day-to-day activities that go on in their classrooms are providing students with an adequate level of long –term progress toward the goals outlined in their scope and sequence, as well as their individual education plans when necessary.
More often it is noticed that teachers are not well versed with spreadsheets and excel. They perform the planning part manually and manually assess the overall achievement against the planning done. However, with the help of this template, any one with very limited or beginner level knowledge in Microsoft excel can prepare a well documented lesson or learning plan.
Furthermore, the color scheme and fields in this excel template is fully customizable. You can add more fields and timeslots as per your requirement.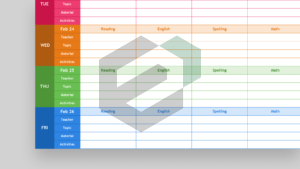 Also read : 7 Essential Excel Tips for Teachers | Full Blog
How to download and use Weekly Lesson Planner Excel template ?
To use this free weekly lesson planner excel template, you should have Microsoft Office/ Microsoft Excel installed in your system. After installing Excel or Spreadsheet, download the zip file of this template, extract the template using WinRAR or 7Zip decompressing software. Once extracted, you can open the file using Excel and start entering data or customizing the template.