Download Trucking company profit and loss statement format in Microsoft Excel and Spreadsheet. The Profit & Loss, also known as the P&L report is a central report for any business. This is a report on your income & expenses and gives you an idea of the overall health of your business.
About truckers Profit and Loss Statement excel format
Depending upon the size of the company, the P&L template can be run for a fleet or for a single truck. In the report for the fleet all income & expenses are listed. In the report for a single truck only the revenue for the truck listed.
The template also factors in the other costs associated with running a Trucking company.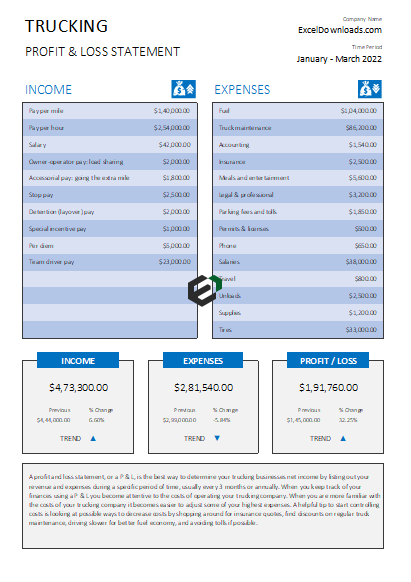 Download and use printable profit and loss statement excel template for trucking company and truckers
Now, To download and use this free printable profit and loss excel template, follow the instructions below –
Firstly, You should have Microsoft Office/ Microsoft Excel installed in your system.
After installing Excel or Spreadsheet, download the zip file of this template, extract the template using WinRAR or 7Zip decompressing software.
Once extracted, you can open the file using Excel and start entering data or customizing the format.