Download Free Profit and Loss template (P&L template) in Microsoft Excel for business use. Create your own income statement with monthly and annual versions in the Excel file. Also, This is printable Profit and loss statement template.
Introduction to Profit and Loss statement
An income statement or profit and loss account is one of the financial statements of a company and shows the company's revenues and expenses during a particular period. It indicates how the revenues are transformed into the net income or net profit. (Source : Wikipedia)
Additionally, Profit and Loss Account is a period statement which is prepared to show the profit or loss incurred by the Organization in the year for which it is prepared. It is prepared to disclose the result of operations of all the business transactions during a given period of time. It is also known as profitability statement. Thus, the application of Profit and loss statement is to aware the stakeholders on the financial performance of the company or entity.
Furthermore, it helps the business managers, owners and relevant parties to make decisions.
Types of Profit and Loss statements
There are several types of Profit and Loss statements. You can find the list below –
Single Step Income Statement
Multi-Step Income Statement
Comparative Income Statement
Common Size Analysis Income Statement
Variance P&L Statement
Segmented P&L Statement
Driver-based P&L Statement
Composite P&L Statement
Source : ValQ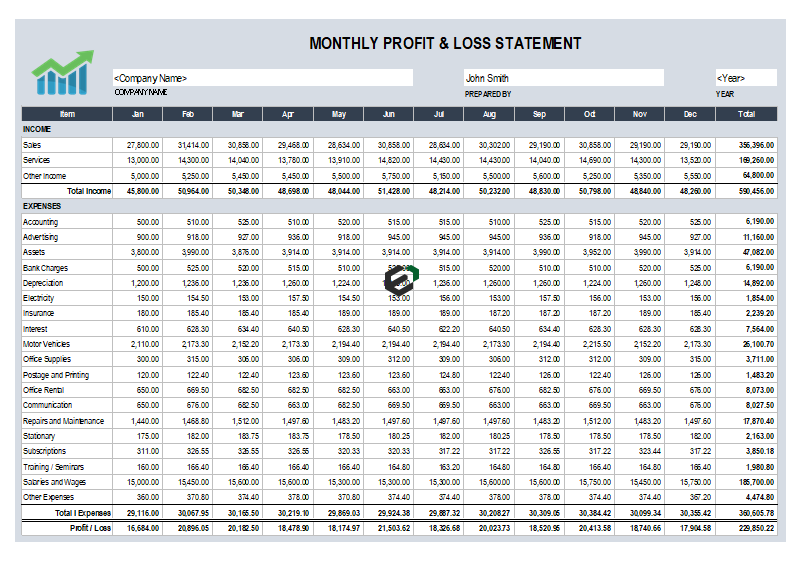 Download and use printable profit and loss statement excel template
Now, To download and use this free printable profit and loss excel template, follow the instructions below –
Firstly, You should have Microsoft Office/ Microsoft Excel installed in your system.
After installing Excel or Spreadsheet, download the zip file of this template, extract the template using WinRAR or 7Zip decompressing software.
Once extracted, you can open the file using Excel and start entering data or customizing the format.