You can use Microsoft Excel to track your weight loss and fitness progress. There are many templates present which helps in quickly monitoring your weight loss campaign. If you are a fitness consultant, then you can share this template with your clients to help them monitor their progress. Lets discuss on the concept of BMI and how excel or spreadsheet can help us in computing and monitoring our Body Mass Index ;
Body Mass Index (BMI) is a person's weight in kilograms divided by the square of height in meters. A high BMI can be an indicator of high body fatness. BMI can be used to screen for weight categories that may lead to health problems but it is not diagnostic of the body fatness or health of an individual.
In General , BMI Categories can be –
Underweight = <18.5
Normal weight = 18.5–24.9
Overweight = 25–29.9
Obesity = BMI of 30 or greater
It is very easy to track your weight loss and fitness progress. ExcelDownloads offers following templates which are very easy to use and track and Compute Body Mass Index:
a. Fitness Progress Tracker (Men)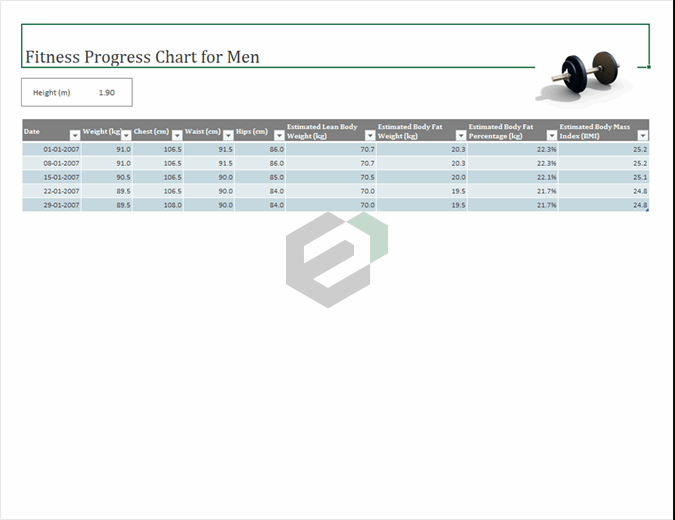 Monitor your progress with this fitness chart template for men. Log your weight and body measurements, and your body mass index (BMI), estimated body fat percentage, and lean body weight will be calculated automatically. A graphical chart for displaying your weight and BMI changes over time is also included.
b. Weight Loss Chart (Women)
Track your weight loss and fitness progress with this template, which has a worksheet for weekly weight and measurements in metric units, and charts that show progress of measurements, weight, BMI and body fat.